Mint Street Park
Southwark Council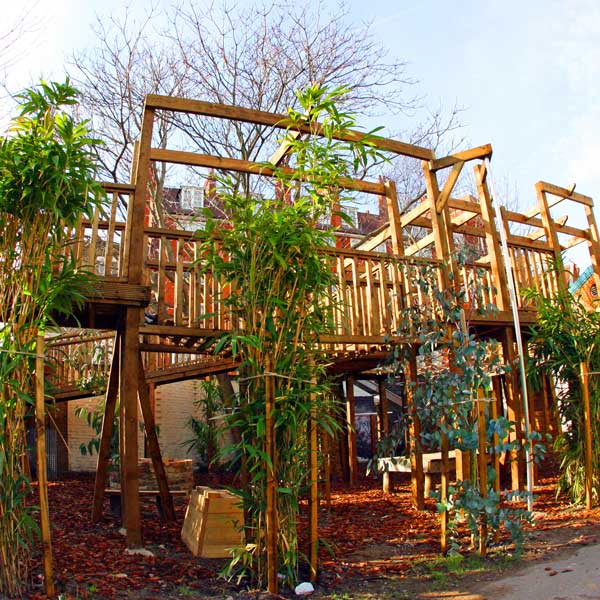 Raised Trim Trail for Southwark Council £120,000
The majority of Robert's work covers schools but this project for Southwark Council was to provide an Activity area for local teenagers.

The brief was to create a series of Climbing Structures which would be as demanding and challenging as possible, within the confines of the space provided. The other main criteria was that the Council insisted on a Natural Play Area, containing a variety of new established Trees and shrubs to surround the various climbing platforms.

The Council had already turned down other designs of Modular structures and Artificial surfaces. Robert's design was for a number of high platforms which were interlinked by a series of balustraded walkways, which ran around a central open space, the whole being surrounded and interspersed by a variety of large exciting plantings.

Robert's design thrilled the Council who voted unanimously to proceed. The result of this construction has been an amazing Youth Activity area which after 5 years of daily usage, is still in pristine condition. The main theme of these structures is climbing, climbing and more climbing. All the platforms and walkways are reached by climbing walls, climbing nets and climbing bars, all at varying heights. Further access to the platforms is gained by knotted climbing ropes which are positioned at strategic points.

"Thank you so much Robert for having created this absolute Oasis in the middle of Seven Kings. Please do come with your team to our Opening Day, as so many people want to meet you and thank you.

Robert, I can honestly say that you really shine amongst all the Playground designers; you are head and shoulders above them all."

School Head, Seven Kings Free School